Archives for Programming - Page 2
There are some situation  when we run a time-consuming process, we need to see the output of that command to see its progress. Normally, we would have to wait...
You might see that error when upgrading from PHP5 to PHP7 your code might look like this: Solution: just remove & , it will fix.
Run this script to see your SSL Version If you want to check your open SSL version? OpenSSL and later support  TLS and TLS...
Do you still love working with Delphi 7? I do. Delphi 7 is quite old and there are many features on the new Windows 7 that it's not able...
Make sure your open_basedir is off , also the safe_mode should be off
I need to run some PHP scripts in the background, this script should still run while i log off my SSH session. I first try It run in...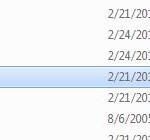 I was trying to install TMS Component into my Delphi 7 (yes, it's very old), everything seems working fine. I can see the new components installed, i can...
Long time ago, when i design the database, i never think of the character set for my database. But recently, i have to work on some non-english language like...