Author Archives: itdoctor
This is mostly because the script is hang at some point , the server still keeps the connection, this will end up where server can't accept new connection. This...
You can run this command:
mcrypt extension is an interface to the mcrypt cryptography library. mcrypt is included in php5 to  , but it's removed from . The instructions below help you...
if you use#! /bin/zsh $MYVAR="Hello world" if [[ $MYVAR == *"hello"*]] thenecho "FOUND"fi If we don't use #! /bin/zsh $MYVAR="Hello world"if [[ $MYVAR == *"hello"*]]; thenecho "FOUND"fi
When i try to remove a disk in Virtualbox with this command: I got the following error And the fix is:
Please check if your subdomain is a CNAME , the DNS rule does not allow CNAME record to have other record. The fix is to use A record for...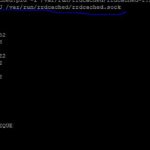 rrdcached is a daemon that receives updates to existing RRD files, accumulates them and, if enough have been received or a defined time has passed, writes the updates to...
You might receive the error Column count of is wrong. Expected 42, found 44. The table is probably corrupted , this is probably because you import the whole...